Brad Stauffer, DTM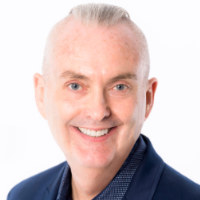 Brad Stauffer, DTM, is a Personal Brand Evangelist, known for his passion and expertise on authentic personal branding and marketing. His purpose is to "turn personal greatness into powerful brands."
As a speaker and workshop leader, Brad brings humor, fun and heart, while teaching the power of an authentic personal brand. Brad's ultimate goal is to create a world of purpose-driven messengers. He has worked with hundreds of speakers, coaches, authors, and messengers to discover and create their authentic personal brand.
Brad is a two-time Distinguished Toastmaster, and Immediate Past District Director of District 1 Toastmasters.
Outside of Toastmasters, Brad has been a media executive for over 25 years, leading teams in creative strategy, product development, marketing, and branding. Most recently he was Vice President, Creative and Product Development, at BrownTrout Publishers, Inc. Prior, Brad was Owner and President of "On the Mark Branding," providing branding and marketing services for small businesses.
Brad is a Certified Co-Active Coach and a member of the International Coach Federation. He is also a Certified Relationship Coach, Certified Leadership Coach, and has been coaching for over 20 years. He facilitates his own workshop "Engage Your Authentic Voice LIVE." Brad has a Bachelor's Degree in Communications from Oral Roberts University.
Jon White, DTM
Senior Vice President
O'Connor & Company Securities, Inc.
Jon White has been a public finance banker for 38 years. Prior to joining O'Connor & Company, Jon worked with other major bond firms covering a wide range of municipalities, school districts and redevelopment agencies. Jon received his BA in economics from UC Santa Barbara and his MBA in finance from UCLA.
When not working, Jon loves being a dad to his young adult son and daughter. One graduated from college recently and has a job, and the other, well, she swears that'll eventually describe her too.
A Toastmaster, a storyteller and a stand-up comedian, Jon initially came to Toastmasters to work on his speaking and leadership skills, but he has stayed all these years for the wonderful people he has met.